Your Clinical Trial Deserves TLC From PRC
Outsourcing In Clinical Trials West Coast 2018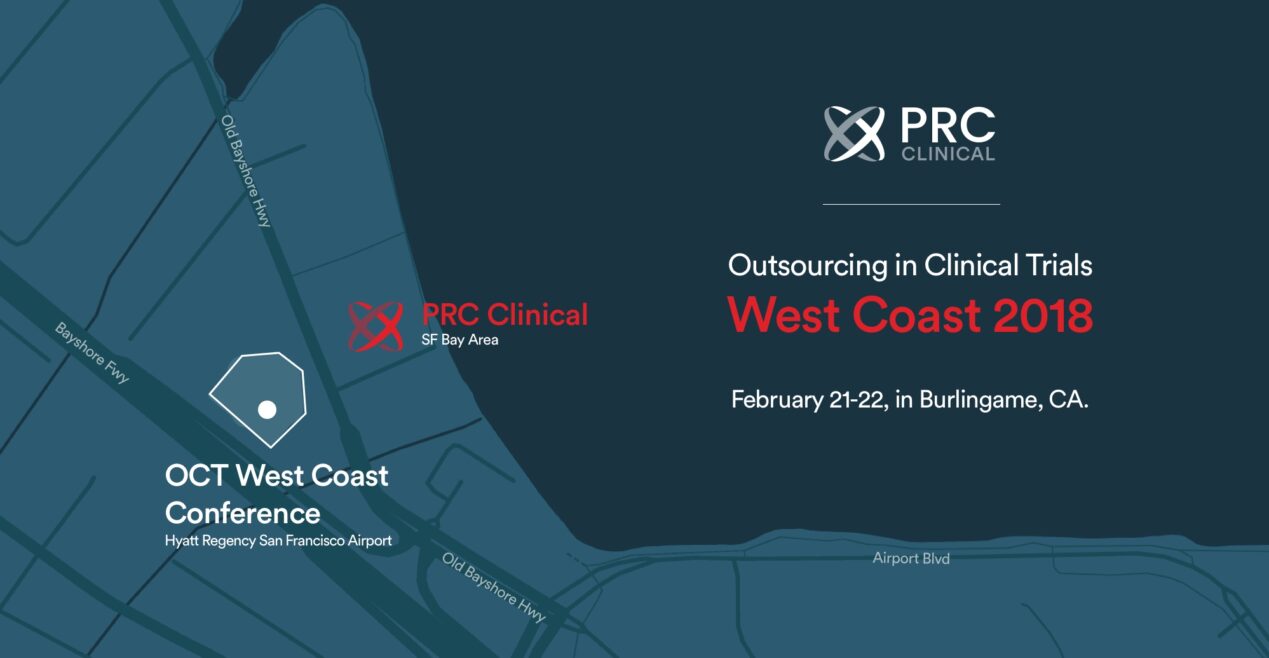 February 20, 2018
Burlingame, CA. PRC Clinical will be an exhibiting sponsor at the next Outsourcing in Clinical Trials West Coast conference on February 21-22, in Burlingame, CA. PRC Clinical has been attending this conference series since the inception and is returning to celebrate 15 years of CRO services, roll out a new visual identity, and present its Clinical Trial Management capabilities. Earlier this year, the company relocated to new headquarters in Burlingame, CA, across from the conference venue. The Outsourcing in Clinical Trials West Coast 2018 Conference is expected to gather hundreds of clinical trial professionals to discuss clinical outsourcing strategies and overcome challenges within clinical operations.
The PRC Clinical team will be available at booth #10 to answer sponsors' questions and establish a plan to efficiently manage their clinical studies. As an exhibiting sponsor, PRC Clinical is extending free invitations to pharmaceutical, biotech, and medical device sponsors. Follow this link or contact Joshua Elvert at jelvert@prcclinical.com to register and schedule a time to meet at the conference.
PRC Clinical is featuring a new logo and celebrating 15 years of providing specialty CRO services. The company evolved from a small group of consultants into a full-service specialty CRO providing services to some of the most innovative pharmaceutical, biotech and regenerative medicine developers worldwide.
About PRC Clinical
PRC Clinical is the CRO of choice for many pharmaceutical, biotech and regenerative medicine developers worldwide, offering a next-level clinical trial management experience. Our innovative approach to executing studies merges our high-touch human element with high-tech tools, extensive experience and deep knowledge – far exceeding the level of service offered by large CROs. We offer full Clinical Trial Management services including Clinical Project Management, Site Monitoring, Site Selection, and Site Management. PRC Clinical has significant experience in a wide range of therapeutic areas: Regenerative Medicine, CNS, Neurology, ALS, Parkinson's, Pain, GI, Device, Anti-infective, Cardiovascular, Pulmonary, Oncology, and Stem Cells. Call 1-877-519-6001, or email info@prcclinical.com.